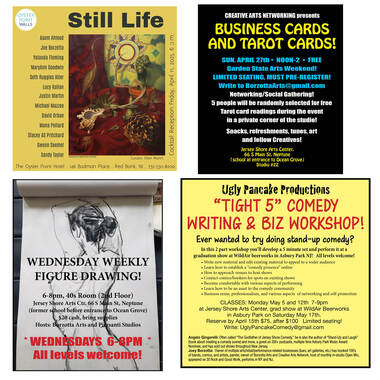 Palette ArtSpace presents a group show til appr April 7th. After 6 years, (more if you include the pop-up Temporary Comtemporary Gallery when I first bought the space) I've rented the space to a new tenant and am going to pursue the many projects I've had on the back burner - especially my own painting, The Gallery Guy blog and videos, getting my graphic novels up on Amazon, a short film, stand-up, performing, etc, and most importantly, having more weekend time to spend w my supportive wife, Courtney, and my son, Rocco.
There'll be deep discounts on artwork, especially on my own work (since there's no middle man!) from the "archives racks" in my studio and some new pieces. Fridays 3-7, Sat 12-8, Sun 12-4, and just call, I'll be there alot over the next few weeks on weekdays at various times. Also check the Store page here.
Palette ArtSpace will still be online here. I want to first thank all those who have purchased art over the years. I also want to equally thank those that can't afford to buy art but showed support by coming to art openings and other events. I've met so many cool, smart and quirky people over the years that I never would have if not for this place. I am very proud of what was accomplished here. Palette consistently did more shows than any gallery in the area, 9-10 a year. The artists have been appr 50% local and NJ and 50% national. We hosted bands for I think every single Asbury Underground since its inception. We've had plays, live music, comedy, classes, and amazing art. Our comedy programs have been awesome! We've also had several fundraisers for local charities, most recently raising over $1200 for Mary's Place at a Comedy on The Half-Shell event.
Like they say, "it's been a helluvva ride!" And to quote Ringo, "Peace and Love!" Support the arts! I'll stay in touch, you too - Joseph Borzotta

Monthly FIGURE DRAWING w/ long poses! Thursday March 28, 7-9:30, $15
Classical style starting w quick poses moving to long poses with props and draping. Model Anita will be back, we'll be doing more long poses this month, some with her Mermaid costume!
"THE MONEY MIC" Comedy Open Mic!
Tues Apr 2, 7 Signup 7/730 Start
Stand-up comedy open mic! $3 in the hat to perform, at the end 2 comics are
chosen by lucky draw to split the pot! All levels are welcome!
FREE TO THE PUBLIC!!!!
Gallery hrs are Fri 3-7, Sat 12-8, Sun 12-4, most weekday afternoons, by appointment, and for events/classes etc.