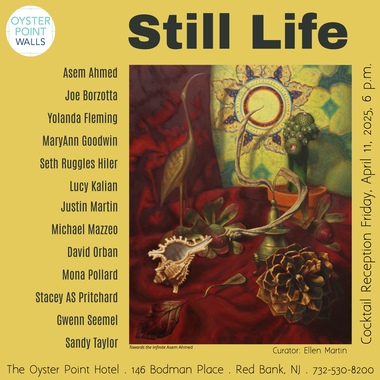 Palette ArtSpace is proud to present "Summer Sauce," its series of summer group exhibitions featuring a rotating cast of artists from around the country.
Recent additions to the show are pop surreal paintings by GEORGE MELTON, ethereal photo-collages by DEBBY SZERSIN, abstract paintings by BEPPO, an installation and more. Also: colorful portraits by San Fran's TRACY PIPER, World's Fair paintings by DIANA JENSEN of Brooklyn, and only 2 left from SHANNON REDNOUR's Anonymous Selfies series.
We will also feature individual works by a number of other artists throughout the space including Kortez, MIXTAPE Collaborative, Serron, Lou Carbone and others.

Gallery hrs are Fri 4-8, Sat 12-8, Sun 12-5, most weekday afternoons, by appointment, and for events/classes etc.

Watch here for music, comedy and other events. If you are looking for a space for your event, class, workshop, get-together etc, please contact us at 201-981-2395 or paletteap@aol.com.